In 1980 I was teaching drums at Reik's Music in Almaden and practicing 8-10 hours a day when I heard about auditions for the Stickband. Apparently, Jim was looking for someone young with lots of energy, and I turned out to be the guy. I was 19.
For me, joining Stickband and the staff at Guitar Showcase was my transition into becoming a professional musician. While I had acquired lots of technique and theory (and was very fond of over-playing), I had yet to learn the musical skills of feel and subtlety. I had energy and licks, but no groove.
While playing with Stickband I learned the valuable lesson that notes don't just mathematically fit into meter, they also need to fit with time in your gut. Actually, it was hard to watch Bob Cooper play and not realize this. Bob had a way of playing drums that went beyond technique, and I set out to learn how to do that.
While on that journey, Emmet Chapman setup some lessons for me with pros in Los Angeles and something clicked. One of the pros was the drummer in The Knack ("My Sharona") who was phenomenal. When I returned from LA, my playing took on a new bent, and we all knew that something had changed for the better.
Stickband was all about creativity – the songs, the instruments, the gigs. As such, it was the perfect setting for me to assemble and play the first entirely symmetrical drum set. The assumption was that if I learned to play right-handed, left-handed, open-position etc., I would gain skills and create a new sound and style. And it kind of worked. I recall Jim and Bob hearing certain out-of-the-box drum grooves in their heads, singing them, and working together to figure out how to play them. With descending toms coming from both directions, double-bass drums, left and right hi-hats, and stacked cymbals and electronic drums floating in the air, I had endless possibilities. It's still the largest kit I've ever seen.
Some great Stickband memories:
Playing in the planetarium while the stars spun overhead
Performing in solid primary colors – I was yellow
Runs for Cosentino's OJ or Kirk Burgers
Writing the lyrics for "What's the If the Why" based on Jim's melody
Stacking all the drum shells inside each other to bring the massive drum set to Hawaii
Playing at the Blue Max on Front Street in Lahaina
Bob's Frisbee skills – wherever we went he always had one
The big gig at the San Jose Civic Auditorium when some string lights didn't work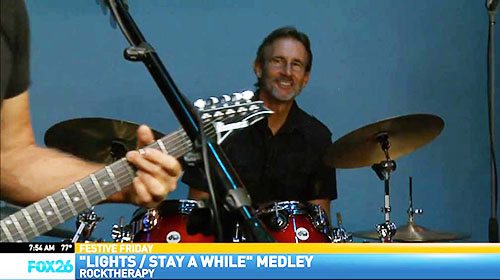 Many years have passed, but the memories remain. I left Stickband to pursue an engineering degree at UCSB and have had a fascinating career in the electronics industry amidst the inventions of the PC, internet, smartphone, and no telling what's next. I now run my own business at www.siguys.com.
Between engineering and raising my (size large) family I took 30 years off from drumming, but am happy to report that I'm back at it again. While I may never regain the chops I had in the Stickband days when I was playing 16 hours a day (no kidding), it sure is fun. I will always be indebted to Jim Bruno for taking a chance on me and patiently teaching me the difference between playing an instrument and being a musician. It's humbling to imagine the countless others he has helped over that hump during his 60+ years in the business. Thanks Jim, and keep on teaching!
I first met Don at the beginning of a short transitional period. Don was coming in and I was going out, and it didn't take long for Don to settle into Stickband. He began to contribute his own unique style of drumming rapidly and he managed the entire transition with great professionalism.
I was extremely happy to see Don take over the drum throne for Stickband. I knew Jim Bruno and Bob Culbertson were going to be in good hands, and much to my delight, Don also took over my teaching position at Guitar Showcase. He was an excellent teacher and drumming role model for the many students.
I got to know Don Telian during a very short time, but after my departure from Stickband, Don and I continued to stay in touch socially. We shared some mutual friends that kept us connected for a few years during the early 80's. Don embodies some wonderful personality traits. If I had to sum up Don's personality in a few words, I would use: inquisitive, magnanimous, and selfless.
Don was the ideal drummer at the right time. I'm glad Don was an integral part of Stickband's journey. Thank you and congratulations on your drumming legacy, Don!
Don became our second drummer when he took over for Bob Cooper, and what an amazing young man/gentleman and drummer he was. Don wasn't even college-age at the time, but really put full force and energy into becoming the new drummer for the Stickband. He also became the new drum instructor in my music school, taking over for Bob Cooper there as well.
One of the things that was very interesting about Don was he decided to create a drum set that would be based on the concept of a mirror image; both the left and right side of the drum set where as if you had put a mirror against one drum set and created a second drum set. He had double bass drums and even double high hats creating a unique and incredible set of drums, and he worked out a way to play the kit that was really quite interesting and creative.
Musically, we continued on in a very similar fashion, still working out lots of creative instrumental music and some vocal music but not nearly as much as a future version of the group would be; Don was our drummer during our first trip to Hawaii, and what a fantastic time that was.
Don stayed with us and we grew, but he was young and just starting out in life, and alas, we lost Don to college. He said goodbye to Stickband to continue his education, (who could fault that?) and unfortunately, we more or less lost contact with him after he left the group.
Don went on to have a fabulous life – I know that he married and has a wonderful family. Once, quite a few years after he had left and without any warning, drove through the parking lot of guitar showcase where the music school is.
I saw him in his car, walked up to him as he was driving through, and spoke with him for a short period of time. He had a carload full of kids with his wife sitting next to him – I think he was just driving through the school just to kind of show them something he had done in his youth. I said hello to everybody and we talked for a bit, and that's the last time I've seen him, but he certainly is not forgotten. He is definitely part of the story and a very creative person.
UPDATE: Recently, I reconnected with Don. After a wonderful conversation on the phone about this website, Don was more then happy to fill us in on both his memories of the group and adventures of his life after Stickband.
Keep singing!