Founding Member – Drums (1976 – 1980)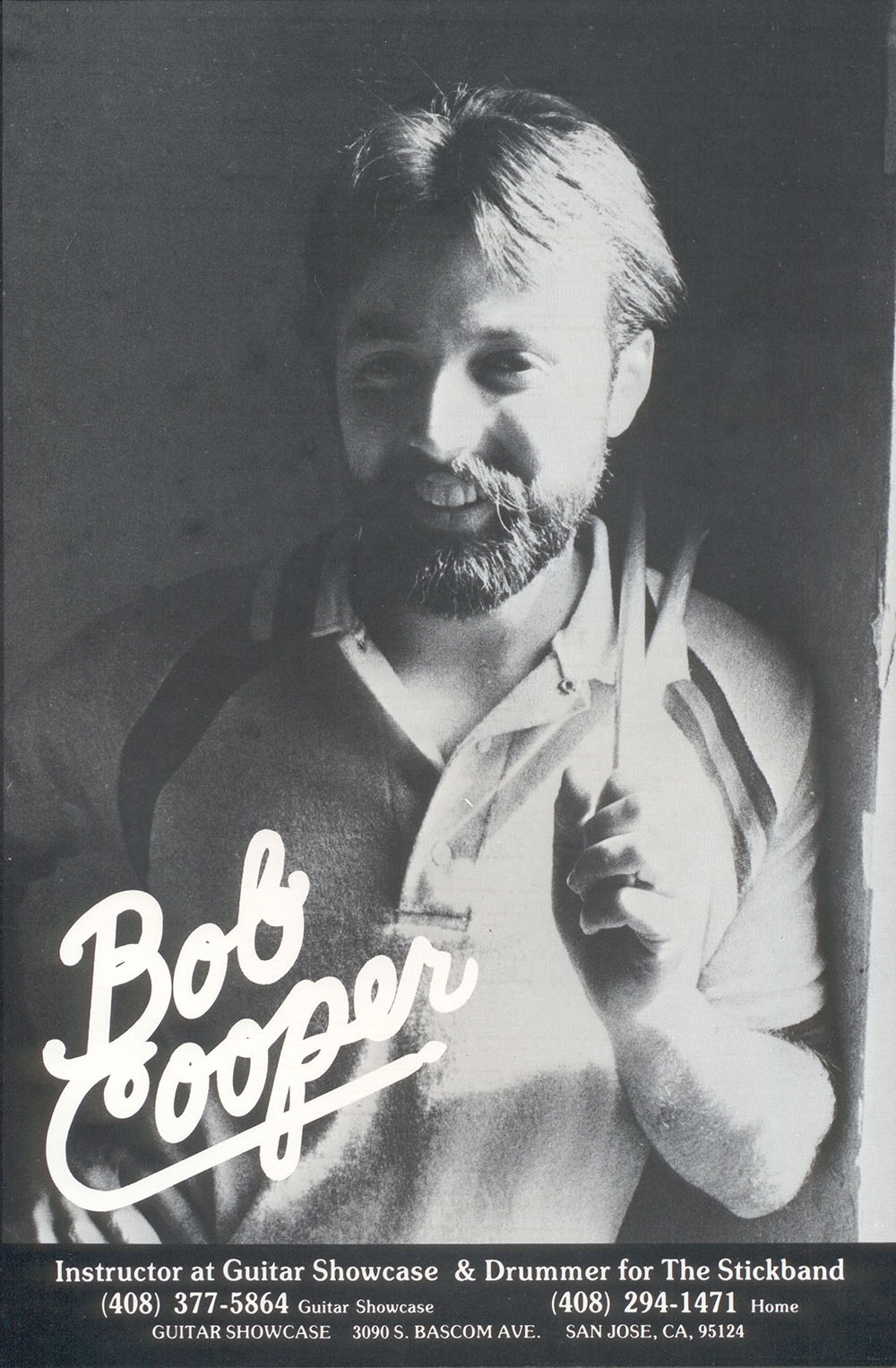 Recently, I've been looking back and enjoying memories of my four years working with Jim Bruno and Bob Culbertson in Stickband. After watching our music video, I was reminded about how and when some elements of our music came to be. I pulled my thoughts together and began to write some details about our musical history you may find interesting.
I was greatly inspired by Jim and Bob's multi-instrument musicianship. Jim's interest in many electronic musical instruments, the Chapman Stick and Lyricon for example, and his music school Showcase Music Institute were encouraging and excellent creative motivators. Additionally, the broad range of musical expressions Bob produced on the Chapman Stick were mesmerizing, thought provoking, and were also beckoning my creativity.
I don't recall exactly when Stickband was formed, but I do remember joining Jim and Bob sometime in the mid 70's. I do know for certain that my tenure with Stickband ended in early 1980, probably March or April, approximately one year after our music video taping on March 28, 1979 at the San Francisco State University (SFSU) Broadcast and Electronics Communication Arts (BECA) studio.
Many years prior, in the early 70's, I was inspired in a unique way by Emerson Lake and Palmer's performance at the San Francisco Civic Auditorium. I was impressed by Carl Palmer's innovative drum solo. He used two pitch tuned Timpani Kettledrums. Carl also had a custom electronic hybrid acoustic drum set. He had his hybrid drums built from reverse engineering, an electronic drum prototype given to him by Bob Moog, the electronic music pioneer and creator of the Moog synthesizer. Carl's overall setup was impressive and his custom hybrid drum design was a benchmark at that time. However, Carl did not play the Timpani Kettledrums and his hybrid drums melodically in a musical composition while accompanying Keith Emerson and Greg Lake. Nevertheless, Carl's solo performance was inspirational.
Having been inspired by Carl Palmer and by all the electronic drum industry had to offer at that time, I began to envision electronic drum melodies. To my knowledge, I may be the first to conceptualize, integrate, and play melodies on electronic drums within a composition while playing on an acoustic drum set. It was my dream and my strong
desire to accompany other musicians with electronic percussive melodies woven throughout acoustic rhythmic patterns.
The first melody I performed was not complex, but a simple melodic foundation, supportive to Jim and Bob's harmonized guitar solos. Jim wrote the first melody for me to perform. We did not use a triggered pre-recorded digital sound loop which is often used in today's electronic drum performances and recordings.
My first drum set design was to provide low register Timpani Kettledrum pitch ranges using electronic triggering pads. The triggering pads are easy to integrate within a standard acoustic drum set because they have dimensions that are small in depth and diameter.
I was aware of two electronic drum manufacturers in the mid 70's, Pollard Syndrum and Synare electronic drums made by Star Instruments. I selected the Synare electronic synthesizer drum because it was readily available. Each Synare electronic drum could be tuned to a pitch. Unfortunately, the electronic drums during that time-period often went out of tune. I received four Synare electronic drum triggering pads from Star Instruments in exchange for playing and endorsing the Synare electronic drums during performances. Hanging the Synare electronic drums on my custom designed hardware above the front of my drum set was good advertising for Star Instruments.
The first and only composition to come from the electronic and acoustic drum amalgamation was called V'ger, a character name derived from the 1979 film "Star Trek the Motion Picture". In the film, V'ger was an alien interstellar life form that had merged with the Voyager space probe. V'ger was a very fitting and suitable composition title for Stickband. As I recall, I pressed Jim and Bob vigorously to see the film. I remember vividly the impact the movie soundtrack had on us.
Sadly, there was no software programming features available for tuning electronic drums at that time. I was dreaming about mounting custom electronic drum pad triggers spanning one or more octaves with a software switching mechanism for shifting from lower to higher octaves. I hope to see some young drummers develop the method and carry on my dream. The skill required is artistically challenging and should be inviting for drummers who wish to stretch themselves further.
I enjoyed our many hours of Stickband rehearsals and performances. It was a very creative time and it was all great fun, especially our camaraderie. Thank you to both Jim and Bob.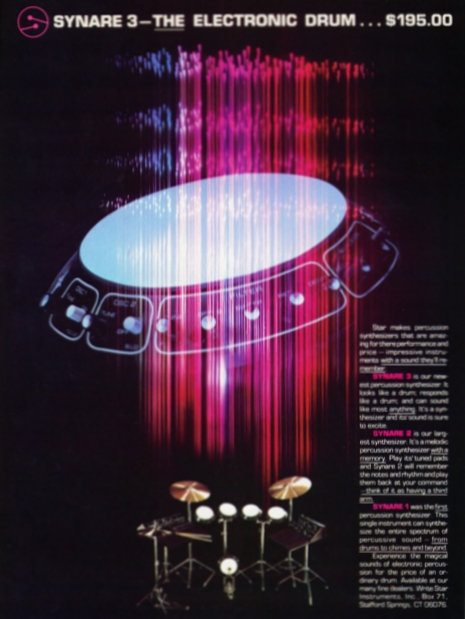 Drumming Philosophy and Early Memories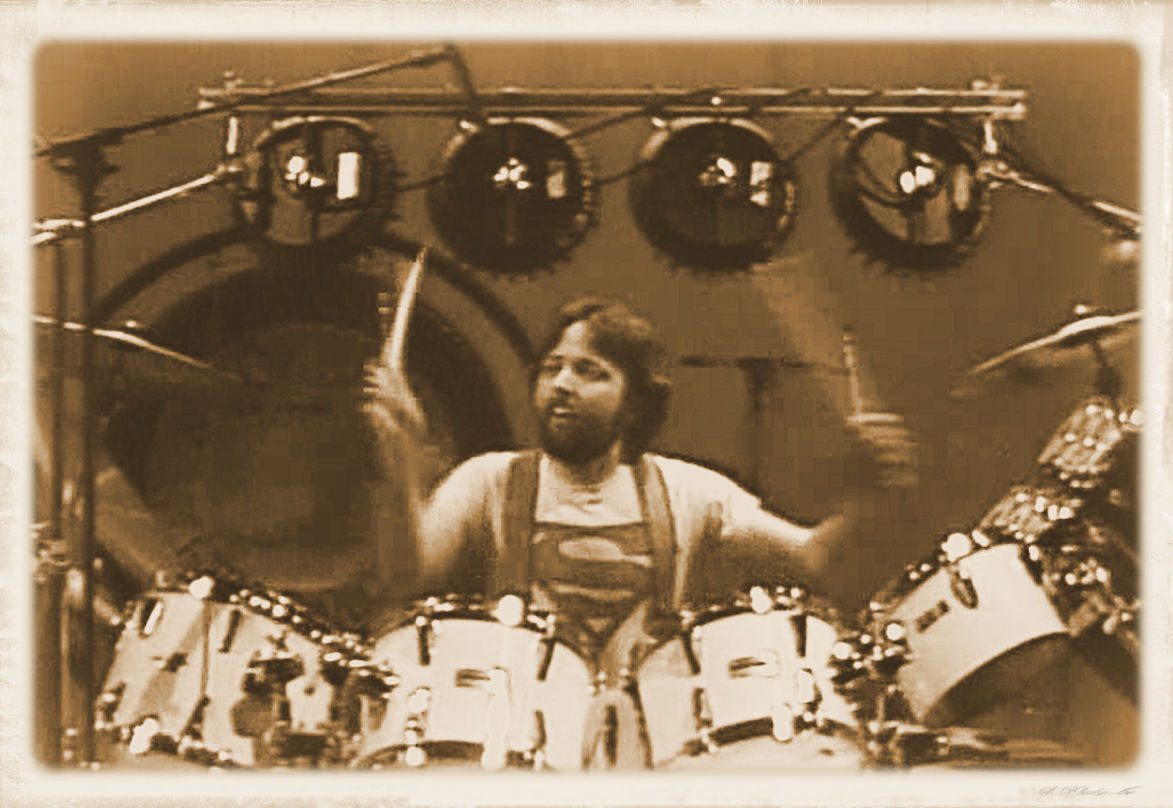 My drumming philosophy is to provide solid drumming and time-keeping, play with confidence and passion, listen intently, collaborate, and help my fellow musicians sound great.
My early musical influences began with the classic crooners. Frank Sinatra, Sammy Davis Jr., Dean Martin, and Tony Bennett just to mention a few. Their fabulous jazz orchestras had a huge impact on my drumming. They were nothing short of amazing. My father loved the crooners and I grew up listening and feeling all those great rhythmic grooves of the big band jazz era.
My two older sisters were big fans of the Motown sound. The music of Stevie Wonder, The Supremes, The Four Tops, Marvin Gaye, The Temptations, Gladys Knight & the Pips and Smokey Robinson were always spinning on our vintage portable vinyl record player. Motown music was played daily throughout our home in San Jose.
Next up, the British Music Invasion landed in the USA. The Beatles, The Dave Clark Five, The Rolling Stones and the many American rock legends of the 1960's and 1970's hurled me into the South Bay dance band scene. It was a fun and awesome time for live music in the South Bay. Long before Disc Jockey's ruled the world, live music was king.
The Cortez family of Santa Clara exposed me to a lot of great jazz music. Father Vic Cortez (Saxophone), and sons Robin Cortez (Drums) and Jerry Cortez (Guitarist for Tower of Power) all had a great influence on my music listening. I heard Ronnie Laws (Saxophone), Bob James (Piano), and Billy Cobham (Drums) for the first time and many other jazz greats. Jazz Fusion was hot during the 70's. We listened on and on for many hours. We had big ears and like sponges we soaked it all up.
I finally stumbled upon Tony Williams, Drummer and Jazz Fusion Pioneer. Tony's Band, Lifetime, and his album "Believe It" 1975, were game changers for me. Million Dollar Legs was another of my favorite albums. I was heavily influenced by Tony and many other jazz greats.
I had already performed with more than a half dozen South Bay area bands before Stickband came into being. Stickband was a unique opportunity that came together during a very special time. Jazz Fusion had a solid foothold in the marketplace. Music listeners with sophisticated ears were hungry for the new Jazz Fusion sound. Stickband became a vehicle and opportunity for me to perform many of the Jazz Fusion concepts I was learning at the time.
Some of my favorite Stickband memories came from our long hours in our rehearsal studio, and on one occasion we received a very special visit from Narada Michael Walden (Producer, drummer, singer, and songwriter). Narada came to visit us after his drum clinic at Guitar Showcase. We performed for Narada in our studio and he jammed with us a bit. It was all great fun and the experience was very inspirational.
Another significant memory was the medley of our music we constructed for a special videotaping at San Francisco State University (SFSU) Broadcast and Electronics Communication Arts (BECA) studio on March 28, 1979. The event was a fluke opportunity to make a video recording long before music videos became fashionable. Our video production was dated prior to MTV, which first aired in August 1981. The music video industry was unheard of in 1979.
I especially enjoyed our performances at small venues. The gigs were often spontaneous. The Eulipia Crepe Café, San Jose, The Campbell Gaslighter Theater, and our daytime clinic in the West Valley College music department were intimate settings and acoustically pleasing. The larger concert venues included, University of California, Santa Cruz (UCSC) theater where we performed with Allen Strange, Professor of Music of San Jose State University and his Electric Weasel Ensemble. Finally, our most memorable performance was the Concert of the Inventors at the West Valley College theater in Saratoga California where Emmett Chapman, Chapman Stick Inventor, and Bill Bernardi, Lyricon Inventor joined us.
Despite the long hours and hauling equipment to and from every performance, all our gigs were fun and memorable. The evening before the SFSU BECA videotaping was exceptionally fun and crazy. I'm not sure I remember everything that happened but some details must remain private and secret to protect the innocent. Jim Bruno being the innocent one. I'm joking Jim! I can tell you we partied a lot and we didn't get much sleep before our early morning performance at the SFSU BECA studio.
The most hilarious experience was our "Air Guitar / Air Drum" performance on a regional television commercial for Guitar Showcase. That was the most smiling the band has ever done. We received a lot of positive feedback from the exposure and the television commercial boosted our teaching business.
All things must eventually come to an end. Fortunately, there are new beginnings. Since leaving Stickband, I've been performing intermittently, while enjoying fun times with my wife and three children. Pardon me for one moment for a father's bragging privilege. My children are highly creative, artistic and musical. All have music and performance experience and are successful in their careers. My point being, the creative arts and especially music must be offered to our children. Music and the creative arts expands the imagination and fuels creativity.
Today, I enjoy playing pocket-groves to Smooth Jazz, Rhythm & Blues, Soul and many other Jazz genres. I also have a fondness for playing classic rock of the 60's and 70's. I
like the creative arts, music improvisation, and performing live on stage. I pursue and support music education, mentoring, and encouraging other musicians.
I'm currently rehearsing daily at home. I'm on a mission to perfect the forty essential drum rudiments and strengthen my left hand. I'm also enjoying some wonderful band reunions, including my reunion with Jim Bruno, Bob Culbertson, and our Stickband.
Regarding my percussion instruments, I like any drums that I can make sound great. Throughout the years I've played on all major drum brands. During my tenure with Stickband I played Yamaha acoustic drums and I incorporated the Star Instruments Synare electronic drums into my drum set. Additionally, I added Tama Octobans. Octobans, also known as tube toms, are deep, small diameter, single-head tom-toms. Octobans were originally grouped in melodically tuned sets of eight as seen on the far right in the following photograph.
On occasion, the Musser M-55 Pro Vibraphone was added into our music. I was a novice vibraphone player. I periodically utilized the vibraphone to change the mood of a composition. The Musser Vibraphone with arched mitered resonators can be seen beneath the Tama Octobans resting on my custom built mounting rack in the photograph above.
Finally, we come to the 30-inch diameter Paiste Symphonic Gong. The last known photograph was taken in September 1988. The following is an excerpt from the Paiste business website titled "SYMPHONIC GONGS". I hope it gives you a better understanding of these very special instruments.
Paiste's oldest version of the instrument, Symphonic Gongs, have a slightly raised surface (without boss) with a harmonic and universal sound structure. The fundamental note of the gong is balanced with the instrument's complex overtones. The characterizing word Symphonic thereby should not be misinterpreted as describing the literal sense of classical symphonic orchestra application, but its original sense to unite harmonic sounds. The describing word universal shall be understood as sound in its entirety. The sound of these gongs can be influenced and varied through the nature of the stroke, as well as the size, weight, and composition of the mallets. By varying the striking points, highs, lows, and various sound mixtures contained in the entirety of the gong's sound sphere may be extracted and played up. Symphonic Gongs feature some of our largest examples of the instrument, like the 60" and the extraordinary 80", the world's largest playable gong.
Regarding my Zildjian cymbals, I was inspired to write about them by Andrew Thrall, a fellow drummer. Andrew liked a hi-hat cymbal technique I enjoyed using from time-to-time. Andrew called it, "Stabbing hi-hats". I'll describe the technique. With hi-hats fully opened, I ran my right-handed drumstick between the top and bottom hi-hat cymbals. After closing the hi-hat cymbals around my drumstick I withdrew my right-handed drumstick in a smooth fashion making a whooshing sound. Different variations exist. My hi-hat work was inspired by early jazz pioneering drummers Gene Krupa and the fabulous Mr. Buddy Rich.
The following is dedicated to you Andrew:
My lifelong love affair with Zildjian cymbals began way back in August 1967. Today the thrill just keeps getting better. Having experienced the fabulous 60's and the decades since, I can tell you that Zildjian had a lot to do with making me feel groovy then, and beyond sensational today.
I have often thought about how drummers persuade and manipulate sound from cymbals. How do we describe what's going on when we ride and crash our cymbals? Here's my interpretation. Sadly, many drummers are banging on chunks of metal. Yet some drummers experience a close association between cymbals and the universal material elements. The universal material elements of air, earth, fire and water.
Air represents our creative thoughts and directs our movements, while earth represents our rudimental stability. Fire represents our strength and gives us the ability to execute our musical expressions. Water represents our emotions and the fluid dynamic tempest we produce during performance.
Cymbals are empowering. Drummers often utilize a multitude of unique and distinctive cymbals, and with Zildjian cymbals every drummer can possess and channel the basic
elements required for musical artistry, rhythmic finesse, and percussive greatness. Attention all drummers, before your next rehearsal and performance, stop and give pause, give your cymbals the adoration they deserve.
When a Zildjian cymbal is handcrafted and born it begins a lifetime of servitude. Thus, the master drummer and servant instrument relationship begins. Forever reliable and never resistant to the demands we place upon them, our cymbals serve us well. Zildjian Cymbals take a tremendous beating, even to the point of abuse, but the sound characteristics of a Zildjian never changes and never fades. Past present and future, Zildjian cymbals are a unique fusion of the universal material elements and our will to invent, to control, and to channel the expression of our artistic thought. Zildjian cymbals will forever serve our creativity and they await our inspirational bidding.
Looking back across time, the facts cannot be disputed. Zildjian has blazed an amazing and unforgettable historic trail. Their legacy has sustained great drummers throughout history and today they are propelling a new generation of drummers forward into the future. I especially appreciate Zildjian for honoring the ageless classic jazz drummers and for providing educational events for young drummers beginning new careers. For any variety of musical styles, Zildjian cymbals are an essential requirement for all serious drummers.
Like many drummers, I've done a lot of what appears to be bad things to my cymbals. But it was all meant for good. Thank you Zildjian.
My memories of Bob Cooper are wonderful. Bob was the first drummer of Stickband and to say "he got it" is an understatement. You really can't ever truly replace original members of a band, and although all of the drummers who followed were great players in their own right, Bob started out with Bob Culbertson and I and he shared our original vision of what we wanted the group to be. We were very much in sync about our music and Bob's influence continued in my mind even after he left.
Bob is the type of person who really thinks things out. It was always great bouncing ideas off of him because he would think about a concept and really want to talk about it and get our ideas clear in our heads; what we thinking and what direction we where heeding in. I liked that about him a lot.
He's also is a very fun, warm person – very creative and he loves Sci-fi just like Bob Culbertson and myself. All of those qualities would reflect in our early writing. To reflect on Bob's drumming abilities is to simply say "are you kidding"? He was so, so very good. Spot on great grooves, very fast hands and very tasty in his choice of patterns underneath our songs.
Really, we could not have asked for a better all around drummer. He was a Billy Cobham, Narada Michael Walden type of player, and in fact, Bob studied with Michael Walden for a while, and Narda actually came down to one of our rehearsals and checked us out.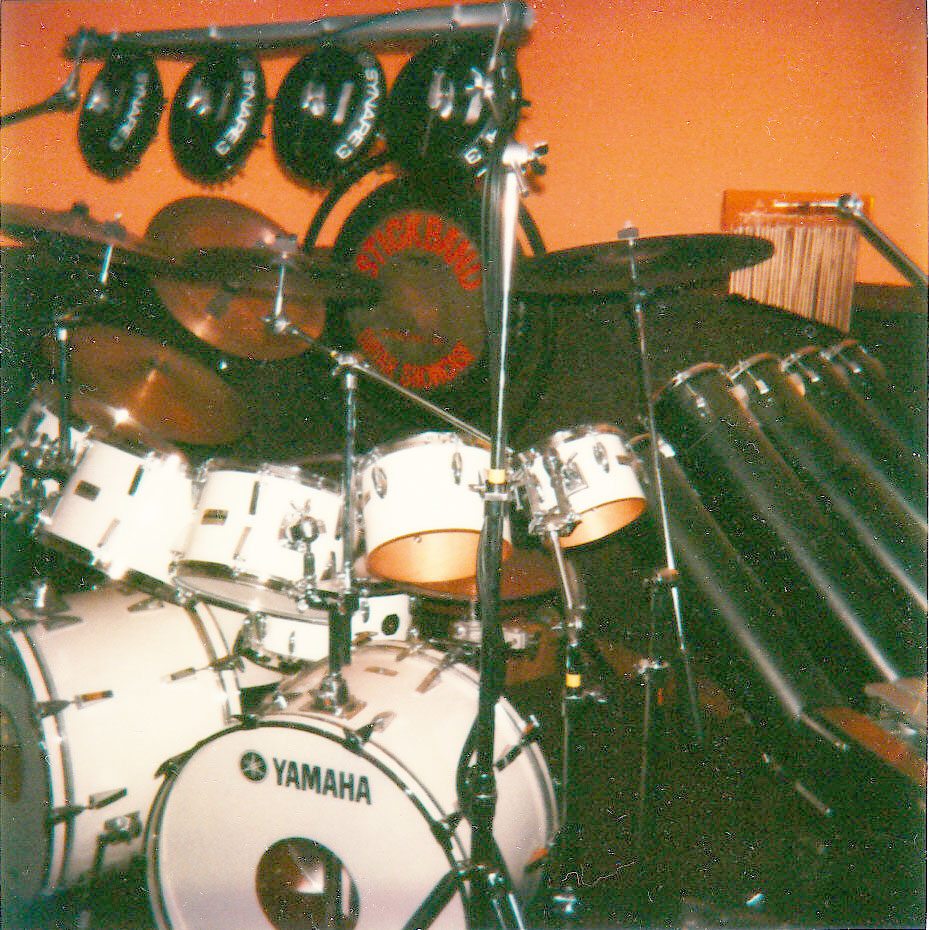 Bob is a wonderful person and has a mellow personality, but when it came to getting better and practicing his craft, he was just as driven as Bob Culbertson I were. Bob would practice for hours working on new reflexes; I remember walking into the studio one day and he had a drum machine going through two speakers pointed straight at him. He was using the machine for a click track and then he would work out drum solos, creating different types of drum fills while never losing his groove/time while playing.
Check out Bob's drum set. He had a double bass kit, and let me tell you, to get those double bass drums moving you have to be in really great physical shape. Bob would spend hours working out double bass patterns with his feet/legs. That really takes work, and he could play blazing double bass patterns and do other alternate patterns with his hands all at the same time. Granted, there are a lot of people working that type of playing today, but back then it very unique.
Adding the electronic drums to his kit and playing melody patterns on them while playing drum beats simultaneously made Bob a true drum pioneer. Even today you don't see that skill being used much. It's great food for thought for anyone reading this who is looking for a new creative thought applied to the drums.
I have nothing but Respect for Bob as a person, and boy, and what a drummer!
Keep singing (and drumming)!